Before and Beyond the Internet Conference —
Saturday, September 26, 2015
Explore local entities, including unidentified old photos, to mine the golden nuggets!
2015 PGSA Conference & Bus Tour
---
Polish Chicago: From Fourth Partition to Suburbia
—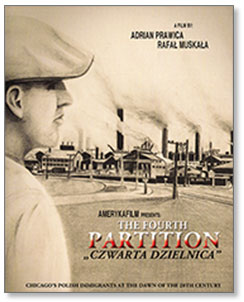 Dr. Dominic Pacyga, Keynote
Saturday, September 26, 2015
Dr. Pacyga was a featured contributor to the 2013 film –
The Fourth Partition
Polish Immigrants at the Dawn of the 20th Century
With their country erased from the map (1795) and partitioned between Russia, Austria, and Germany, around 4,000,000 Poles came to the United States between 1870 and 1920 in search of a better life. Their relocation is referred to as "the Fourth Partition."
Dr. Pacyga will take us into the 21st century with their continuing migration.
---
Before and Beyond the Internet Conference –
Saturday, September 26, 2015
Dust off the box of old mystery photographs to identify them with Ellie Carlson's expertise based on clothing, furniture, back-drops, and facial recognition.
Where haven't you looked for brick-wall solutions? Ginger Frere will take you beyond the usual census and military records by seeking out neighborhood communities, local libraries, museums, historical societies, and local governments, in addition to NARA (National Archives and Records Administration).
Travel 4,500+ miles while remaining in your favorite chair! Ola Heska will show you how to obtain vital records from the Polish State Archives and find ancestors in the Polish Genealogical Society-Warsaw database. Bring your laptop/tablet.
---
Chicago's South Side Polonia Bus Tour –
Friday, September 25, 2015
See how our immigrant ancestors help put Chicago on the global stage. Through blood, sweat, and tears, Chicago rose to be "hog butcher of the world," a dominating center of steel production, and site of the first planned industrial community in the United States. All this and more moved Chicago from small town to world-class city!
We'll tour, visit, and reminisce sites including St. Adalbert parish, Union Stock Yards, St. Mary of Perpetual Help parish, US Steel South Works, St. Michael the Archangel parish, Pullman Palace Car Company, and more "Historic scenes through mobile means" via luxury coach bus with choice of Panera box lunch, and knowledgeable and exciting tour guides leading the way.