Preserving the Past for the Future
This web site directory is PGSA's first step to inform and build awareness in the ability of our members to access "Digitized Polish Vital Records" via the internet. In addition, we will strive to mobilize our members to volunteer in the effort to transcribe and / or digitize Polish vital records before they fall victim to the ravages of time and are lost forever.
---
This web site was started in 1996 by Debbie Greenlee after her first trip to Poland. To date it contains photos from 750 Polish villages and after each trip (every other year) more villages are added.
The site includes Debbie's Trip Diaries, phone books from the Bukowsko, powiat Sanok area and many indexes to various Polish records, all filmed by Debbie. It also describes two books available on the site: (1) Bukowsko Gmina by Jerzy Zuba, a small history book about the gmina Bukowskko, and (2) Kronika Bukowsko Book by Kazimiera Kochanska, a Polish school diary about life in Bukowsko just after World War II.
www.polishfamily.com
---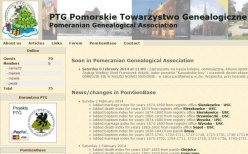 This site is multi-lingual as you enter and scroll the various databases available. In the tab "Cemeteries" you may search the transcription of ancestors buried in cemeteries across the province. In the tab "PomGenBase" you may search the transcription of vital records held by local Registry Offices or Parishes as available. Here is an excellent description of the Kujawsko – Pomorskie Province in Polish. I found no digitized documents on this page as of yet.
www.ptg.gda.pl
---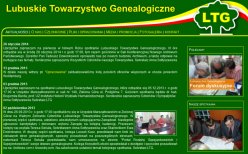 This Lubusz Genealogical Society site is in Polish with no English aids. I did not find any digitized vitals here but in the tab areas "Pliki i Opracowania" or files you will find a transcription of 5000 Polish officers interned at Woldenberg Camp.
www.ltg.zg.pl
---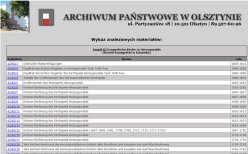 This site is in Polish with no English assistance. Olsztyn is the capital of the Warmian-Masurian Voivodeship in North Eastern Poland. The digitized records are primarily from the German era and you may have to determine the German name for your Polish village to be successful. The link will bring you to the dialog search table. The tab zespołu will give you groups of records and Nazwa oryginalna – Original Name will give you a defined area. Just play with it for a bit. There is a wealth of records but the naming is mixed German – Polish. It's not friendly, but it is worth the look.
olsztyn.ap.gov.pl/baza/wynik.php
---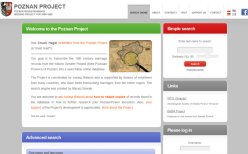 This site is the work of Łukasz Bielecki in Poland and a host of volunteers around the world (myself included). The site allows one to search for marriage data primarily in the German Partition. The URL above will take you to the Polish version, but an English version is available upon request at the very top of the page. It's really not necessary as the site is very user friendly. Go to the dialog box Pan młody – Groom and the input box Imie – name, use the drop down to select the given name if listed. If not select Dowolne – Any. Next move to the dialog box Nazwisko-Surname and enter it … if you are unsure of spelling you can wildcard the entry. If you know the same information for the Bride – Panna młoda enter it and press Szukaj-Search or if finished Wyczysc-Clear. You may search for bride, groom or both to receive information. If you know the Region your family lived in you can speed the search by selecting it in the drop down dialog box. Now the downside, this is a very busy site and sometimes you just can't get in … go back …it's worth it … This site is a prime example of a job well done!
poznan-project.psnc.pl/
---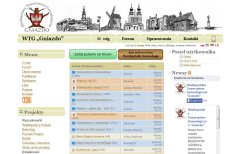 This site is in Polish (some English assistance) dedicated to indexing the vital records in Greater Poland Voivodeship (also known as Wielkopolska Province, or Województwo Wielkopolskie). You must register to use the site.
www.wtg-gniazdo.org
---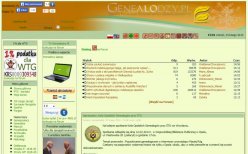 This web site is available in Polish and English versions.
genealodzy.pl
---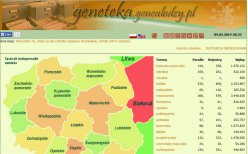 Geneteka is a database created by the Polish Genealogical Society in Poland. It is the largest database on Polish genealogy, containing over 10 million indexes from many regions of Poland. For how to use instructions see: Geneteka database.
geneteka.genealodzy.pl
---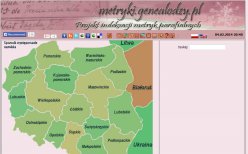 Metryki – "Metrics" is a database created by the Polish Genealogical Society in Poland. It contains a number of vital record indexes. The link below will bring you to a schedule of locations and specific churches that have been filmed. The locations and churches showing "0" will not have records, those with a numeric reference will. (Click) on the church name. You may also access records via the opracowane indeksy – developed Index tab in the top navigation bar. (It looks like a step ladder.) Follow the same access procedure described above. You may also access the developed index of digitized documents at metryki.genealodzy.pl/rejestry.php
metryki.genealodzy.pl
---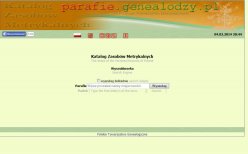 This site is in Polish with no English aids, however it is easy to navigate and provides the user with valuable information on Parishes across Poland.
parafie.genealodzy.pl
---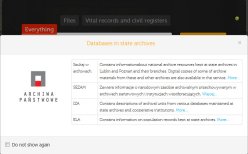 This site is in Polish with some English aids. "It is intimidating", but here is a guide to find what's digitized. Thank You to Paul Rakow of www.polishorigins.com
szukajwarchiwach.pl
---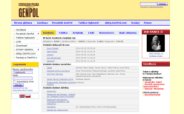 The general site is in Polish and some English, you must log in (free) to use the message board or search functions available.
genpol.com
---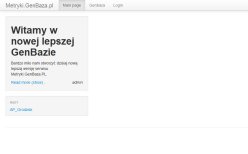 Here you will find digitized vitals for Kielce – RPL , Grodzisk – GPL, Koszalin – GPL, Pultusk – RPL, Sandomierz – RPL, Lodz – RPL in Southeastern Poland.
metryki.genbaza.com
---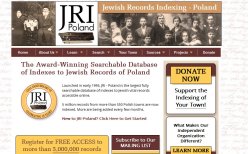 This site is in English and very user friendly. You will need to register and log in to access the database and /or use a number of other tools in the site. It contains predominately Jewish families but you may find help if your ancestor was living in a Jewish Shtetl (Town or viliage with a large Jewish population) www.jewishgen.org/databases/Poland/. This site is worth a look for its many tools.
jri-poland.org
---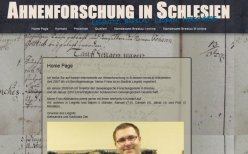 This site is in German with no English aids. It contains digitized records for the Wroclaw-Breslau. You will need to download DjVue to see the records.
ahnenforscher.pl
---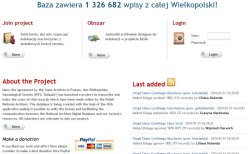 The indexing of records scanned by the National Archive is an effort similar to the "Posen Marriage DB". To access available scans go to www.basia.famula.pl/en/rezerwacja . If you would like to participate in the transcription effort, please contact the administrator at www.basia.famula.pl/en/kontakt
www.basia.famula.pl/en
---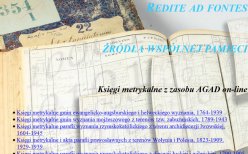 This site is in Polish with no English translation tabs but it's not that difficult to navigate and contains a wealth of digitized information. It concentrates in the areas of eastern Poland, Ukraine and Russia once a part of the greater Polish – Lithuanian empire. The home page will give you a list of selections (click) and you will go to an archive header page. Scroll down to Inwentarz – Inventory and (click) galleria ze skanami … Gallery of Scans … ENJOY!!!
www.agad.gov.pl/inwentarze/testy.html
---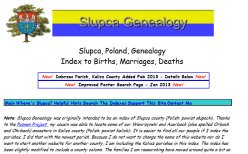 This English language site maintained by Alisa Loeper has transcribed vital records for 11 parishes in Slupca County (with more in process). This area was under German or Russian governance over the years. It is very user friendly and a must see for any with family in this region. There are no digitized records as of yet.
www.slupcagenealogy.com
---
---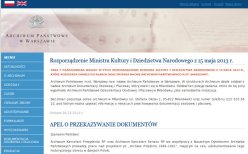 This site is in Polish with some English aids. To search the transcribed files go to www.warszawa.ap.gov.pl/indeksy.html and simply enter the name or a wild card version of the name you are searching. Within the tab wyszukiwarki – search you will be directed to a number of additional records.
www.warszawa.ap.gov.pl
---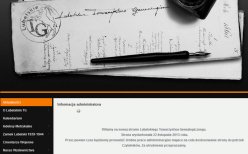 This site is in Polish (no English assistance) and dedicated to indexing the vital records of the Diocese of Lublin. See: http://www.catholic-hierarchy.org/diocese/dlubl.html For Lublin online records see: http://regestry.lubgens.eu/news.php
www.ltg.pl
---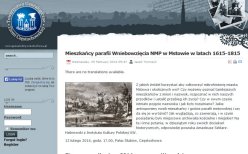 This site is in Polish with no English aids, however the sidebar is in English which is helpful. In the sidebar go to "Digital Library" to find a number of links to other resources or go to "Family Search" to be taken to the LDS transcription and digitized images for this area. The site is easy to navigate but you will need a little Polish to get by.
www.genealodzy.czestochowa.pl
---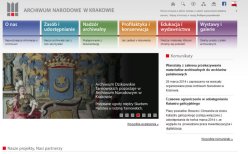 This site has been recently upgraded and contains an abundance of material. For starters click on "Zasób i udostępnianie" (Our archives and how to use them) or "Zbiory online" (Stock online) and from this point on it will be evident that there are digital copies to be opened, etc. Also click the tab titled "Dla Genealoga" this will take you to a digital library and another małopolska digital library that appears to have some cadastral maps and many, many other hot spots-links. Thanks to PGSA member Harry Kurek, for comments on this Archive.
www.ank.gov.pl
---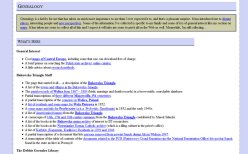 Webmaster Philip Semanchuk has developed this interesting site that provides a number of interesting links to his family in the region around Sanok in Poland and their eventual migrations to the USA. Be sure to browse the many links. In addition you will find the Debbie Greenlee library and a wealth of transcriptions from the churches of the area. The site is informative and very easy to navigate.
www.semanchuk.com/gen/
---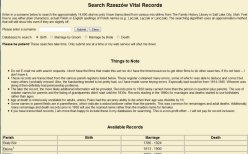 This privately managed site contains in excess of 14,000 birth death and marriage transcription for the villages in the area around Rzeszów, Subcarpathian Voivodeship in southeastern, Poland. The site is very easy to navigate and worth a look if your family is from this area.
www.mikeburger.com/rzeszow.html
---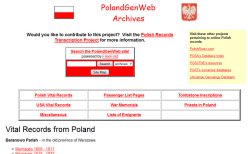 This English language site is coordinated by Marie Dallas who is the administrator:[email protected] and creative consultant and co-founder: Donna Pointkouski. The link above will take you directly to the transcription project, but it is well worth your time start at the beginning www.rootsweb.ancestry.com/~polwgw/ and explore the many tools available to the researcher.
www.rootsweb.ancestry.com/~polwgw/polandarchives.html
---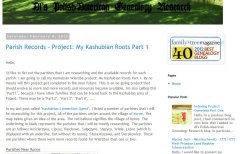 PGSA Member Al (Brian) Wierzba's blog and research site has been a helpful tool for the novice or senior genealogist for a number of years. It is easy to navigate and contains excellent instructional information on how to navigate Polish Language Sites. Well worth a Look!
www.apagr.com
---