JESZCZE POLSKA NIE ZGINELA (Polish National Anthem)
Jeszcze Polska niw zginela kiedy my zyjemy
Co nam obca przemoc wziela szabla odbierzemy
Marsz, marsz, Dabrowski, z ziemi wloskiej do Polski
Za twoim przewodem zlaczym sie z narodem…..
STO LAT – ONE HUNDRED YEARS
Sto lat, sto lat niech zyje, zyje nam,
Sto lat, sto lat niech zyje, zyje nam,
Jeszcze raz, jeszcze raz,
niech zyje, zyje nam, niech zyje nam….
Good health, good cheer, may you live a hundred years,
one hundred years….
ROZMOWA – CONVERSATION SONG
Dzien dobry, Good morning, Dobranoc, good night
Jak sie masz, How are you? W porzadku, all right,
Badz wesol, Keep smiling, Ja robie, I do,
To milo, It's lovely, Dziekuje, Thank You
Ja kocham, I love you, Twe oczy, Your eyes,
Na zawsze, Forever, To pieknie, That's nice,
Kochanie, My darling, Ty jestes, You are,
Mym sloncem, My sunshine, Ma gwiazda, My star,
Jak cicho, How quiet, Dokola, Around,
Wiatr wieje, The wind blows, Bezglosnie, no sound,
Lsni Ksiezyc, The moon shines, Na zewnatrz, Outside,
Pocaluj mnie, Kiss me, Dobranoc, Good night….
Wycinanki — The Art of Polish Paper Cut-outs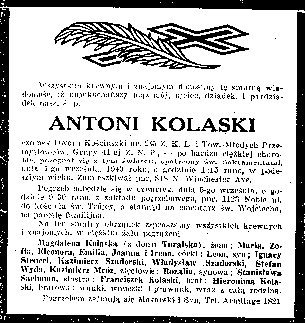 Polish cut outs (wycinanki) are the result of cutting, clipping, punching, tearing and carving of paper into sometimes abstract and at other times recognizable forms, according to Grace Bazylewski, whose works include many types of wycinanki. Among them are gwiazdy or stars, kodry or composite designs and nalepianki, or multiple glue ons.
A Chicago born Polish American, Grace Bazylewski is the daughter of post World War II political immigrants. She learned the art of wycinanki from Polish artists living in the United States while a member of the Polish Youth Association, Harcerstwo. She has been a teacher and practitioner and teacher of the folk art form for nearly twenty five years.
Paper cutting was created in the fourth of fifth century by the Chinese (who invented paper in 200 A.D.). By the seventh century it had spread to Japan. Since paper was expensive, the early uses of paper cutting were limited to monasteries for religious purposes and themes.
The earliest known Polish paper cut outs date to the mid 1800's. While the art form was influenced by its journey across Europe, in Poland it developed as a unique, long-lived folk art tradition of Polish peasants. It was often used as household decorations placed directly on walls of homes. The Poles added color to the art form as well as layering of color to create multiple layered designs. The actual patterns reproduced can be stylized recognized forms such as birds and flowers, as are seen in some of Grace Bazylewski's creations. The repetitions and designs are limited only by the paper cutter's practice, perseverance and imagination.
In "real" life Ms. Bazylewski is an urban planner and holds the position of Director of Planning and Development for the Village of Lansing, in Chicago's south suburbs. She earned degrees in her field from the Illinois Institute of Technology and the University of Illinois at Chicago. Grace is active in a variety of professional organizations in Chicago and the south suburban region.
Copyright 1997. Polish Museum of America. All Rights Reserved.