The following churches are included in this index:
| Church Name | Dates Covered | Number of Records |
| --- | --- | --- |
| All Saints Church, Minneapolis, MN | Aug. 2, 1916 – Dec. 24, 1935 | 1708 |
| Holy Cross Church, Minneapolis, MN | Aug. 1, 1886 – Dec. 29, 1935 | 7995 |
| Sacred Heart Polish National Catholic Church, Minneapolis, MN | May 24, 1914 – May 4, 1933 | 265 |
| St. Adalbert's Church, St. Paul, MN | Aug. 19, 1881 – Aug. 19, 1923 | 4492 |
| St. Casimir's Church, St. Paul, MN | Nov. 27, 1892 – Dec. 17, 1936 | 3002 |
| St. Hedwig's Church, Minneapolis, MN | Dec. 27, 1914 – Dec. 15, 1935 | 639 |
| St. John the Baptist, New Brighton, MN | July 20, 1902 – Dec. 27, 1935 | 681 |
| St. Joseph's Church, Lexington, MN | Apr. 30, 1905 – Dec. 20, 1936 | 319 |
| St. Joseph's Church, Delano, MN | May 22, 1904 – Sept. 10, 1911 | 157 |
| St. Mary of Czestochowa Church, Delano, MN | Aug. 13, 1911 – Oct. 13, 1935 | 413 |
| St. Philip's Church, Minneapolis, MN | Dec. 6, 1908 – Dec. 9, 1945 | 2125 |
| Total Records 21,756 | | |
Polish Immigration to Minnesota
"A handful of Poles at most came to Minnesota during territorial times……..….. Polish immigrants began to arrive in the state in appreciable numbers in the 1850s, primarily from the German controlled western regions of Kashubia (Kaszubia), Pomerania, Poznania, and Silesia. These regions of Poland enjoyed a somewhat more prosperous and modern system of agriculture…………..Their fellow immigrants from the Austrian and Russian partitions were, by contrast, more attracted to wage labor in cities and mines." (From: Poles in Minnesota, John Radzilowski, Minnesota Historical Society Press. 2005. pg 5)
Polish Galician Immigrants – Destination Minneapolis
Minneapolis was a first destination for many Galician emigrants from the western Polish Carpathian Mountains. In the book, They Chose Minnesota (Holmquist, J.D., Minnesota Historical Society Press, 1981, pg 366), Frank Renkiewicz, in his chapter on the Polish in Minnesota, makes the observation: "Factors such as these (progressively smaller land holdings) drove people from the poor pasture and woodlands near the villages of Rabka and Jordanów and the town of Nowy Targ in Podhale in the foothills of the Carpathians. For $45-$60 they might travel as far as Minnesota. Northeast Minneapolis was their principal destination, particularly at the turn of the century."
If your ancestors emigrated from western Galicia (Austrian partition) in southern Poland, it is possible they or family members may have left records at any of five churches in Minneapolis considered to be ethnically Polish. Four are Roman Catholic: Holy Cross, St. Philip's, St. Hedwig's, and All Saints. The fifth church, Sacred Heart of Jesus, is a Polish National Catholic Church. Holy Cross is the oldest and largest church associated with Polish immigrants in Minneapolis.
Minnesota Databases
This indexing project originated in 2002 by John Rys when he began indexing records from the five Polish churches in Minneapolis, starting with his home parish, the Church of St. Philips. (See church photo). After the five Minneapolis Polish churches were indexed, the project expanded to the adjoining Twin City of St. Paul and adjacent Polish churches.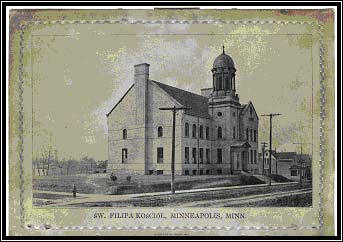 Analysis of Minnesota Data
Once extracted, some Minneapolis data was analyzed with interesting results. Baptismal "given" names were analyzed for popularity and methods of selection. Results were published in "Analysis of Polish First Names at the Turn of the 20th Century" (Rodziny, Winter 2006, pgs 9-15).
Village information garnered from marriage records was analyzed to establish a geographic profile of Polish immigrants to Minneapolis. Results were published in "Analyzing Matrimonial Records to Find Ancestral Villages" (Rodziny, Fall 2007, pgs. 19-23). A tabulation of months and weekdays popular for weddings was published in "Popular Months and Weekdays for Polish Weddings" (Rodziny, Summer 2007, pgs 22-24).
Minnesota Church Baptism Index
To perform a search use the Search Input form in the sidebar. Need help getting started? View our instructions here.
Copyright © 2009 John Rys. All rights reserved.
Used by PGSA with permission of the copyright owner.