The LDS has microfilmed registers of parishes in the Archdiocese of Chicago through the year 1915. The films are available through your local Family History Library. This index was prepared by James J. Czuchra to facilitate finding ancestors in Chicago's Polish parishes. More details can be found in the introduction. You may order copies of marriage records from PGSA for St. Stanislaus Kostka, Holy Trinity, and St. John Cantius churces by completing this order form.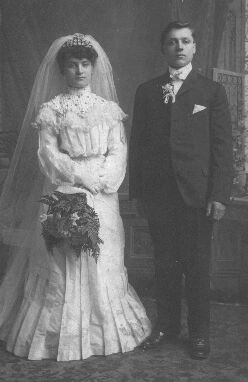 Anna Mytys & Stanley Czuchra,
married in St. John Cantius Church, Chicago
20 February 1905
Marriage Index for Polish Parishes in Chicago through 1915
To perform a search use the Search Input form in the sidebar. Need help getting started? View our instructions here.